All is not gloom and doom in the cryptocurrency world after the collapse of LUNA. Where a hole presents itself, something will come along to fill it. And TRON has been predicted to be the coin to fill the void left by LUNA. This chart from CoinMarketCap taken May 25, 2022 at 4:45pm EST shows the dramatic change within the last seven days.
Light Makes Prediction
A closely tracked trader is naming one altcoin that he says can come out as the big winner following the crumbling of Terra (LUNA) and its algorithmic stablecoin TerraUSD (UST).
Pseudonymous trader Light tells his 160,600 Twitter followers that Tron (TRX) and its algorithmic stablecoin Decentralized USD (USDD) are poised to fill the vacuum left by Terra's demise.
"TRX has displayed enormous relative strength, again at its March highs in an environment where 99% of alts are down 50% or more, driven by Tron's recent foray into the algorithmic stable space and a 30% yield on USDD. In bear markets, winners win."
Tron, a cryptocurrency originally designed to serve as a decentralized storage and distribution platform for social media and digital entertainment content, has recently made a pivot to mirror the affiliation between LUNA and UST prior to their collapse.
Says Tron founder Justin Sun,
"USDD will be pegged to the underlying asset, TRX, and issued in a decentralized manner. When USDD's price is lower than one US dollar, users and arbitrageurs can send one USDD to the system and receive one US dollar worth of TRX.
When USDD's price is higher than one US dollar, users and arbitrageurs can send one US dollar worth of TRX to the decentralized system and receive one USDD. Regardless of market volatility, the USDD protocol will keep USDD stable at 1:1 against the US dollar via proper algorithms in a decentralized manner."
Light says the current state of TRX and USDD presents opportunities to traders and investors considering that the algorithmic stablecoin has a market cap of just $534 million.
"[TRX plus USDD] is in its fairly early stages, with only insiders in. There is room for latecomers and eventually even retail to enter before it carries the same risks as LUNA. Timing is everything in musical chairs. USDD market cap is at only 2.5% of UST's peak."
The crypto trader also mentions a tweet from Justin Sun, where the Tron founder says that USDD has a backstop of $10 billion sitting at the Tron DAO Reserve.
According to Light, traders have now begun the process of sending their TRX to the system to mint USDD.
"After the market-wide capitulation, USDD minting restarted this weekend, catalyzing a sharp decline in centralized exchange balances of TRX as it is withdrawn to mint USDD."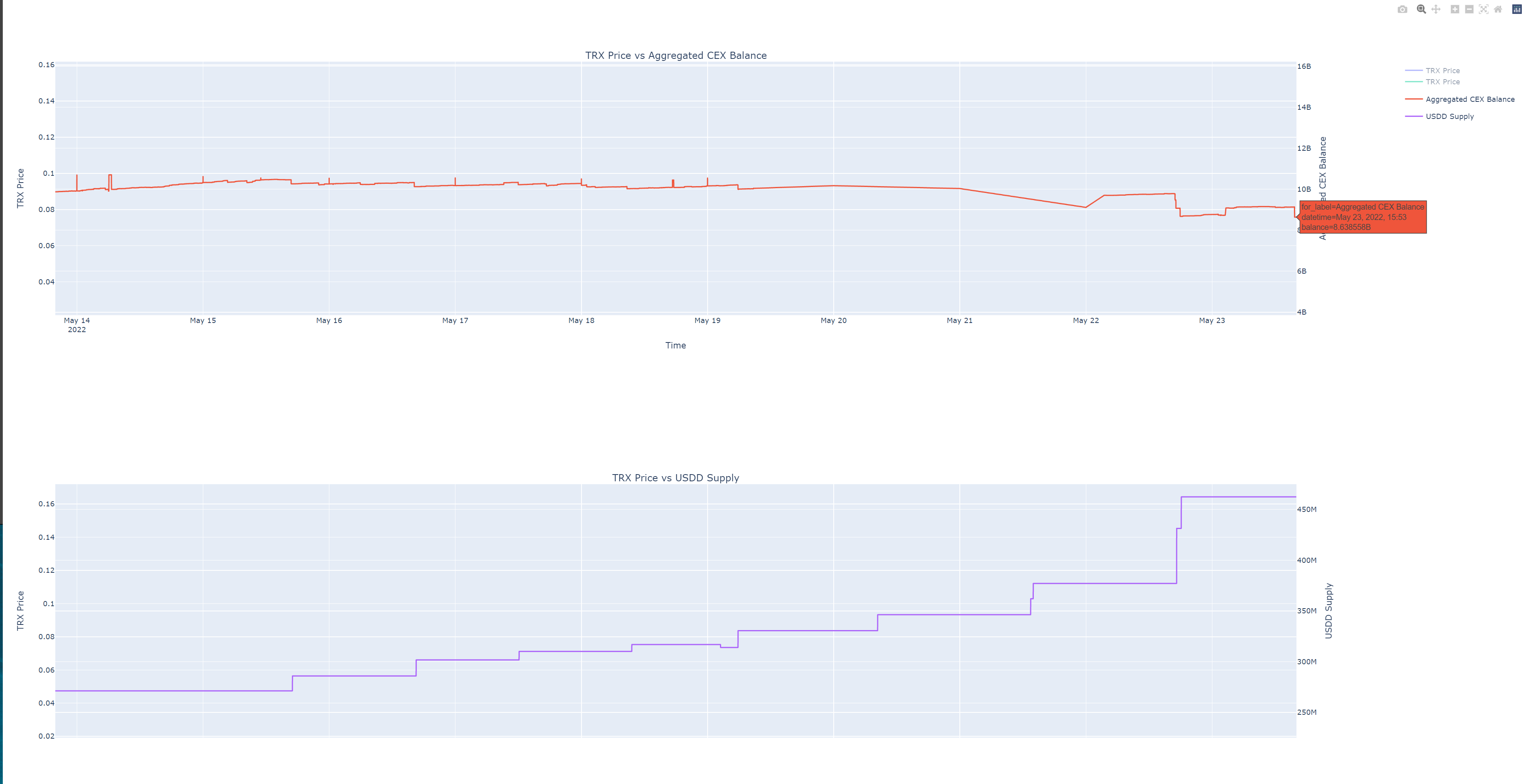 The popular trader concludes by saying that TRX has a history of outperforming other crypto assets during bear markets.
"Tron has a history of pumping during periods of poor market conditions, where a few names soak up the lion's share of speculative flows. The risk/reward of betting on a resurgent Justin Sun, who has seen opportunity in the vacuum left by Do Kwon, is set favorably."
Featured Image: Shutterstock/Natalia Siiatovskaia/Art Furnace
Via this site.
Disclaimer: Although the material contained in this website was prepared based on information from public and private sources that EcomiCrush.com believes to be reliable, no representation, warranty or undertaking, stated or implied, is given as to the accuracy of the information contained herein, and EcomiCrush.com expressly disclaims any liability for the accuracy and completeness of the information contained in this website.