Crypto Trader vs Hodler
Day trading and cryptocurrency hodling are common crypto investment strategies for getting the best return from owned assets. Day trading is a short-term and high-risk strategy where crypto investors buy and sell cryptocurrencies on the same day to profit from rapid price swings.
Hodling is crypto slang for buying and holding cryptocurrency to profit from its long-term value appreciation. The term hodl was coined by a Bitcoin supporter in a 2013 Bitcointalk forum post and has been widely embraced by cryptocurrency enthusiasts. It also means "hold on for dear life," or indefinitely.
Day trading involves more techniques, self-discipline and rational decision-making processes. In the case of hodling, crypto investors often put their money long-term on assets they support and think will have a bright future. Crypto trading strategies often mirror the more traditional stock and other asset trading methods, including technical and fundamental analysis. The main difference is that the rewards can be higher and quicker in cryptocurrency due to the proverbial market volatility.
Online trading has allowed investors to trade independently without needing a broker or a financial institution to execute the transactions, allowing everyone to access trades more effortlessly than in the stock market. Furthermore, the crypto market is open 24 hours, 365 days a year, providing successful traders more volatility during shorter periods for higher returns.
Cryptocurrency has provided institutional and retail investors with a new trading approach while ensuring all the traditional trading tools are preserved and further developed. The real question is, should users hodl or buy and sell crypto?
Ultimately, choosing to day trade or hodl comes down to the investors' skills, the time at their disposal, availability of funds, what level of risk they are willing to take and how they cope with stressful situations.
ETH Supply
A leading crypto analytics firm is finding that traders are HODLing Ethereum (ETH) in self-custody at record rates.
Santiment reports that traders are holding ETH in self-custody away from exchanges at the highest level since the token launched eight months ago, which the firm says "indicates confidence from HODLers."
"Ethereum is now being held in self-custody and away from exchanges at the highest level since the week the token was introduced nearly 8 years ago. This essential all-time low ratio of ETH on exchanges (10.31%) indicates confidence from hodlers."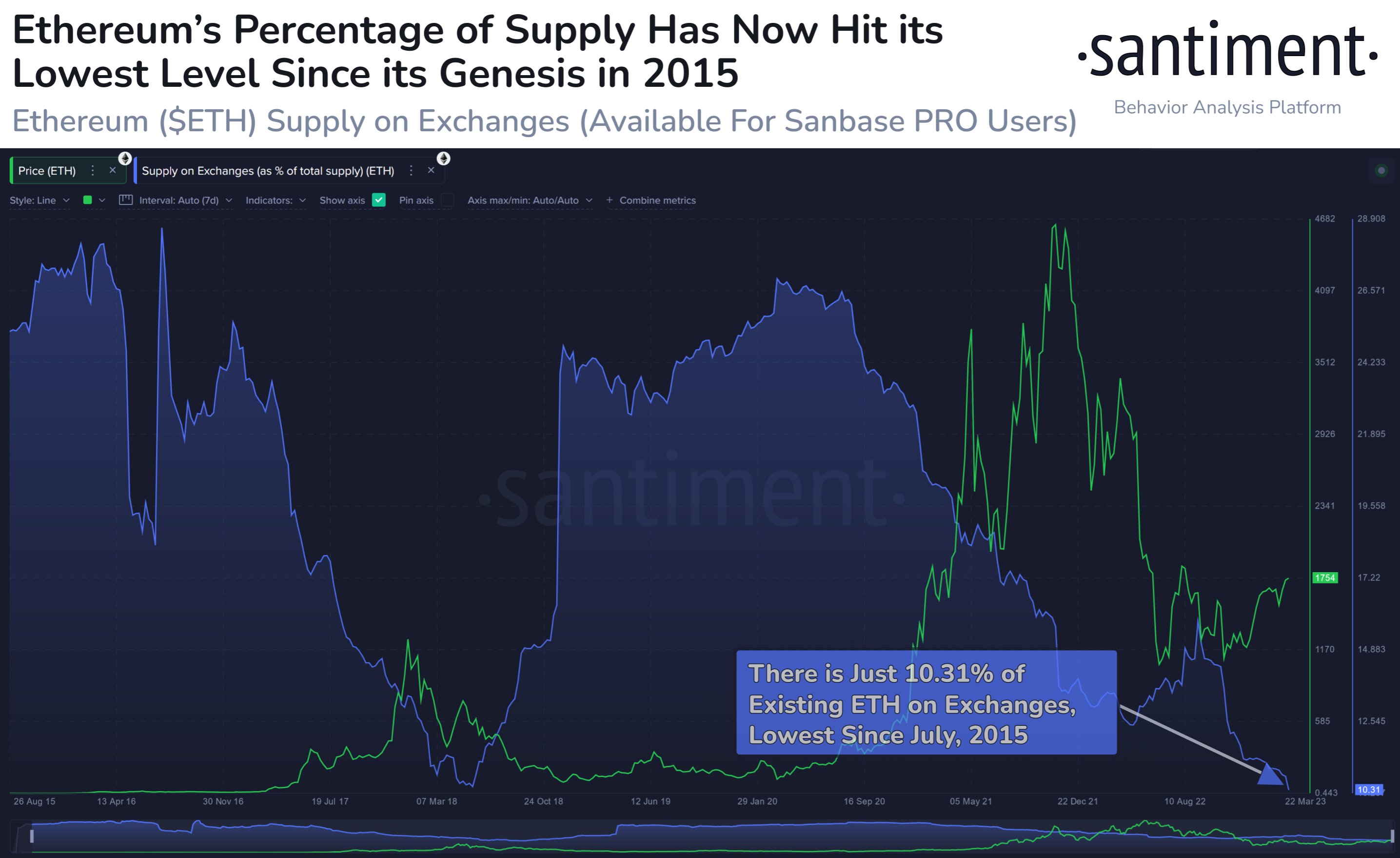 Ethereum is trading at $1,776 at time of writing. The second-ranked crypto asset by market cap is up 3.3% in the past 24 hours.
Santiment also reports that XRP's social dominance hit its highest level since early November following a price surge on Sunday and Monday.
"XRP Network's social dominance is at its highest point in a year following the surge above $0.49 for the first time since Nov. 6. Added XRP crowd recognition means more volatile price swings caused by increased volume & mainstream interest."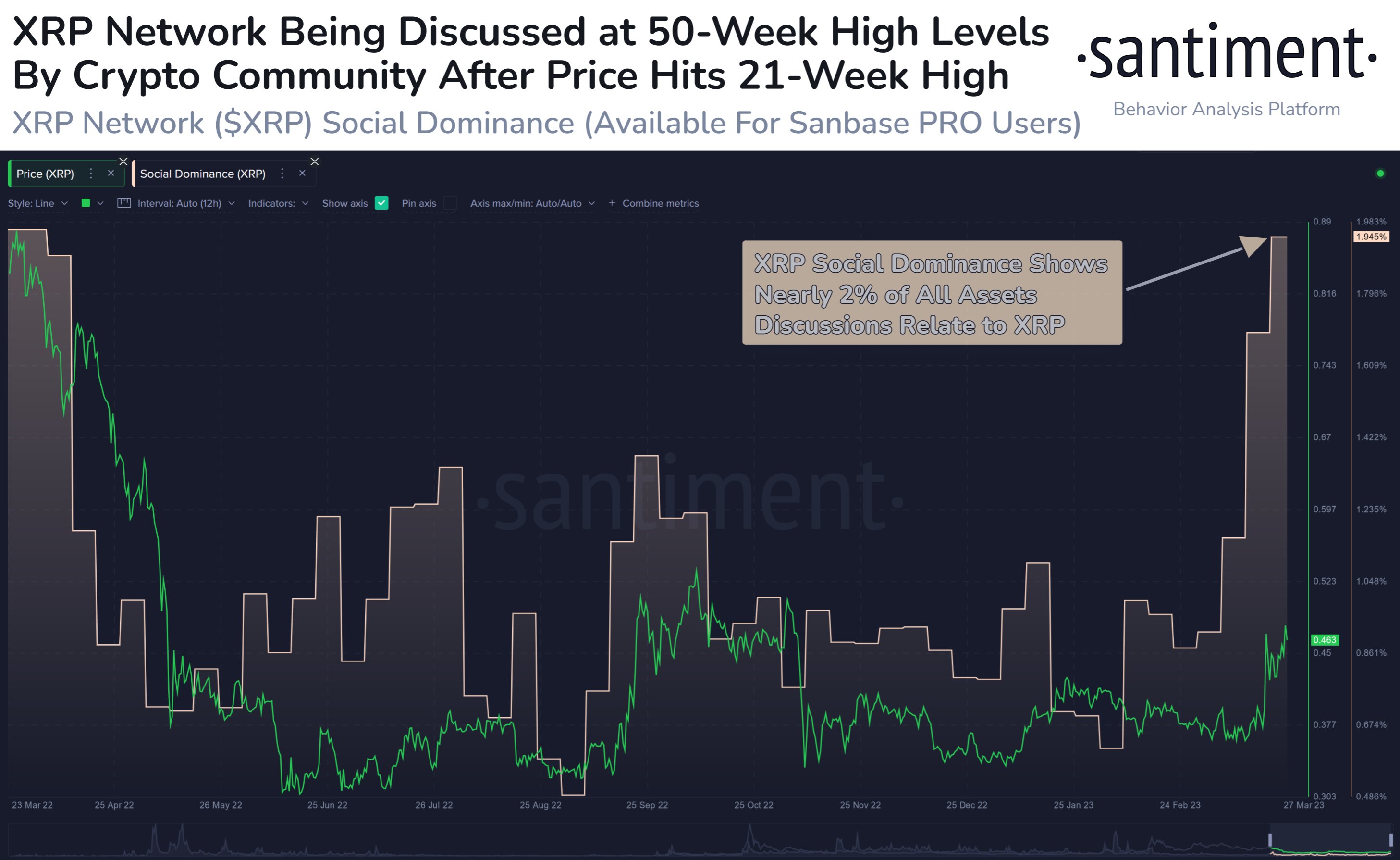 XRP is trading at $0.46 at time of writing. The sixth-ranked crypto asset by market cap is up more than 19.5% in the past 24 hours.
Additionally, Santiment notes that the cross-chain token trading platform Stargate Finance V1 (STG) saw its network growth on Ethereum scaling solution Arbitrum (ARB) surge to an all-time high on Sunday.
"Stargate's network growth on Arbitrum managed to hit an all-time high yesterday despite its -51% price retrace since its Feb 18th top. Our latest insight discusses the Stargate DAO active voting as a likely contributor, and its high risk/reward nature."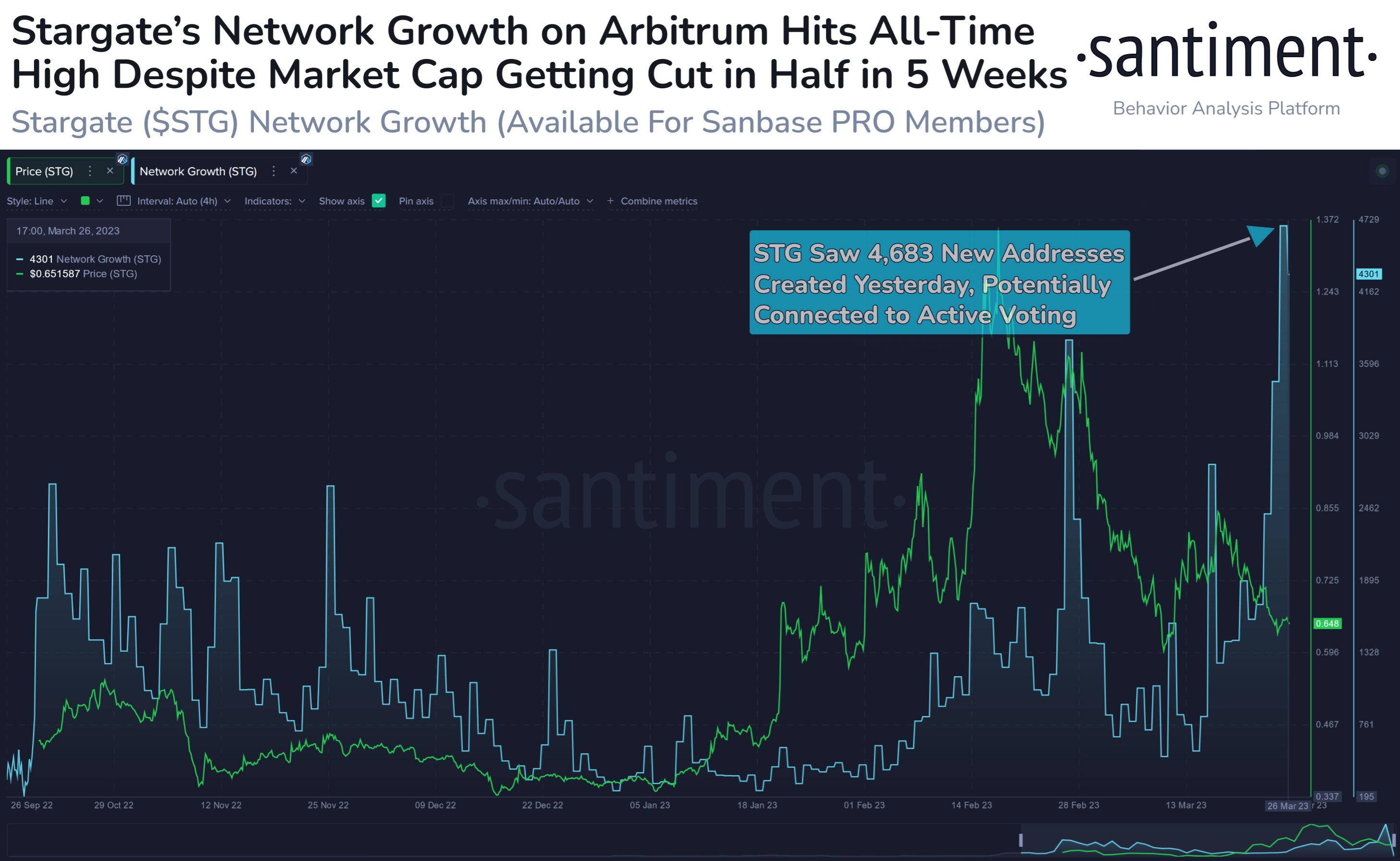 Stargate's jump in network growth on Arbitrum happened despite its recent price woes. The 277th-ranked crypto asset by market cap has plunged by nearly 50% since mid-February and is trading at $0.63 at time of writing.
Top US crypto exchange Coinbase delisted the asset earlier this month, saying it failed to live up to its listing standards.
Generated Image: Midjourney
Disclaimer: Although the material contained in this website was prepared based on information from public and private sources that EcomiCrush.com believes to be reliable, no representation, warranty or undertaking, stated or implied, is given as to the accuracy of the information contained herein, and EcomiCrush.com expressly disclaims any liability for the accuracy and completeness of the information contained in this website.