Vays and Brandt agree, Bitcoin may be only a few months away from the end of the bearish cycle. Both feel a cryptocurrency capitulation is forthcoming, most likely in the next few days.
Peter Brandt
Veteran trader Peter Brandt says that Bitcoin (BTC) could be on the verge of ending the downward trend that started nearly a year ago.
Brandt tells his 641,400 Twitter followers the sharp rise in Bitcoin trading volumes as the flagship cryptocurrency falls below $30,000 could suggest the "beginning of the end" of the bearish cycle.
"This is the type of volume spike that can indicate puke-out capitulation and the beginning of the end of the one-year decline. Can the carnage continue? Anything is possible – and that includes a local bottom. I've mentioned the $27,000 area as a possible low, and that could be."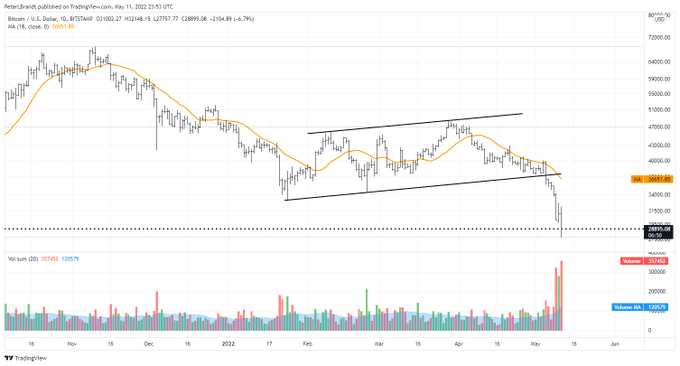 Bitcoin is trading at $28,284 at time of writing.
Terra Crash
In reaction to the price collapse of Terra (LUNA), a blockchain protocol focusing on issuing algorithmic stablecoins, the veteran trader says that the "distrust" generated by Terra's crash could negatively impact Bitcoin.
"This decline is just plain Lunatic. LUNA
I have spoken openly about my distrust of altcoins and that crypto is Bitcoin and Bitcoin is crypto.
The problem is that distrust in that which is distrustful can spill over into that which is trustworthy (Bitcoin)."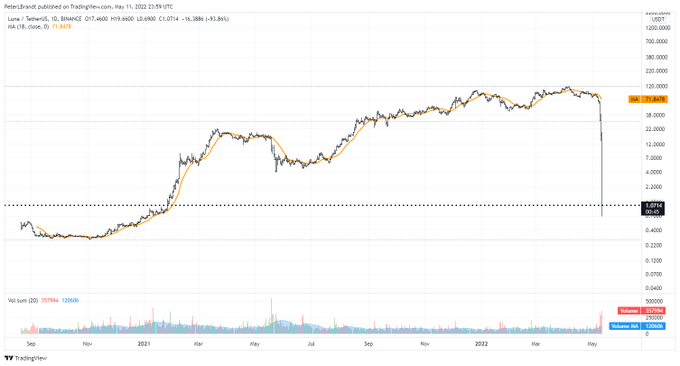 Terra is trading at $0.037 at time of writing, a drop of approximately 99.9% from the all-time high of $119 reached in early April.
Brandt also says that he views non-fungible tokens (NFTs) in the same vein as other overhyped and overvalued physical assets of the past.
"I personally equate much of the NFT market with Beanie Babies and Pet Rocks."
Featured Image: Shutterstock/Agor2012
Tony Vays
Tony Vays has given a timeline for the bitcoin capitulation.
Seasoned trader Tone Vays says he's expecting Bitcoin (BTC) traders and investors alike to succumb to panic and sell their BTC stacks in the coming days.
In a new strategy session, Vays tells his 121,000 YouTube subscribers that both the monthly and weekly charts look nasty as Bitcoin struggles to stay above the key psychological level of $30,000.
The veteran trader says that Bitcoin investors should brace themselves for a possible strong sell-off event in the next seven days.
"It is very likely that next week we'll have our capitulation. If we go to the low $30,000 range… That could be a nice buying opportunity. But that buying opportunity is still more likely to just get back to $37,000 and then make another new low later this summer. It's just not a very good-looking chart."
At time of writing, Bitcoin is changing hands for $30,470, a level not seen in the last 10 months.
MRI Metric
Vays also says that he's keeping a close watch on the momentum reversal indicator (MRI), a metric that predicts trend continuations and reversals based on an asset's price momentum. Looking at the MRI, Vays says that bearish momentum will reign for the next three months.
Chart from Trading View via Daily Hodl article on May 8.
"The daily chart is going to be going down for a little while, according to the MRI. The MRI still says about four to five more days of downside. The weekly scale has about four or five more weeks of downside. The monthly scale has about three more months of downside."
Recently, Vays predicted that BTC will likely bottom out in November this year at around $25,000.
Disclaimer: Although the material contained in this website was prepared based on information from public and private sources that EcomiCrush.com believes to be reliable, no representation, warranty or undertaking, stated or implied, is given as to the accuracy of the information contained herein, and EcomiCrush.com expressly disclaims any liability for the accuracy and completeness of the information contained in this website.