In the past statistics the cryptocurrency trend was seeing altcoins trailing behind Bitcoin. One reason being altcoin prices are generally measured in Bitcoin. While Bitcoin may have over 3000 competitors, it still accounts for over half of cryptocurrency investment. However, things may not always stay that way.
Glassnode Sees Turn-Around
The co-founder of leading crypto analytics firm Glassnode says crypto investors are starting to take more risk by moving capital into altcoins.
Yann Allemann tells his 52,000 Twitter followers that while Bitcoin (BTC) received the bulk of capital inflows last week, he highlights that some altcoins are also getting attention.
"$193 million inflows into crypto last week
$98 million Bitcoin inflows
$87 million SOL inflows
$10 million ETH inflows
Investors are divesting into riskier altcoins. See for yourself."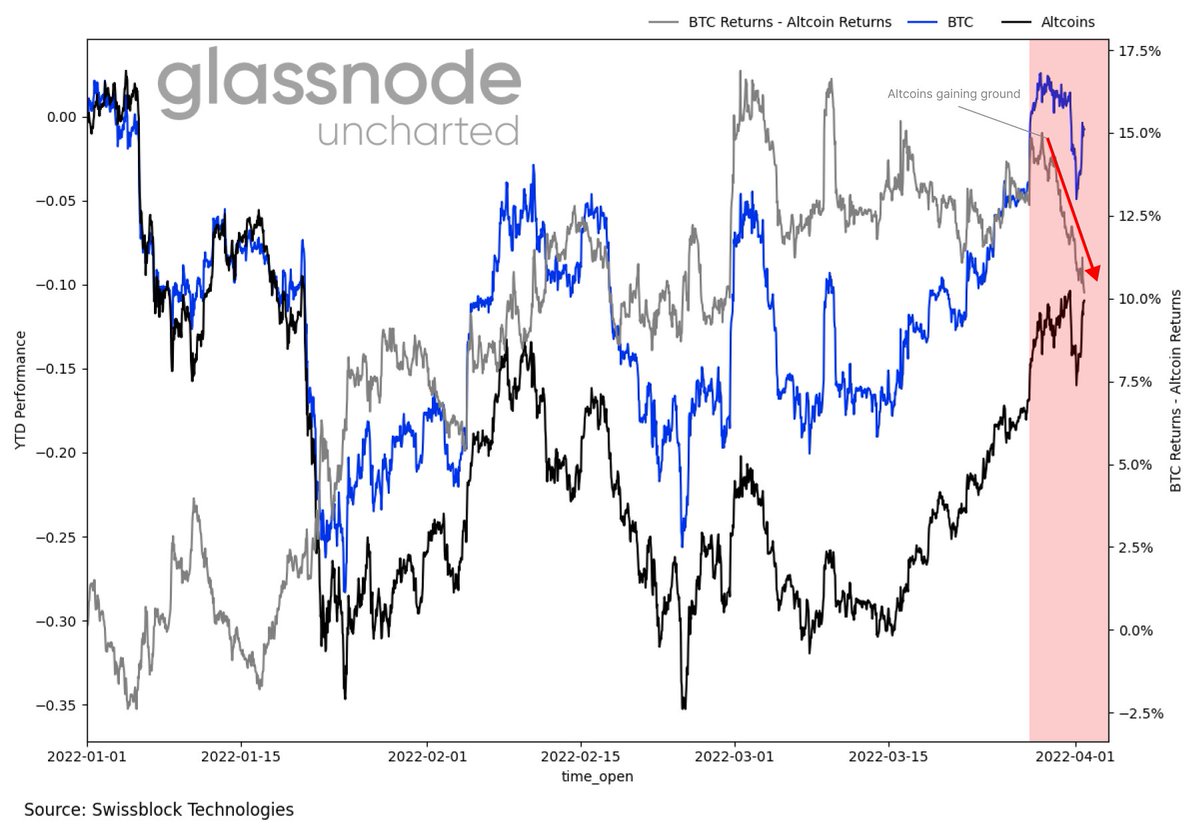 Allemann appears to be highlighting the metric that looks at Bitcoin's returns minus altcoins' returns. The metric is currently in a sharp downturn, indicating that altcoins are gaining ground.
Institutional Capital
In the most recent edition of Glassnode's Uncharted Bites, Allemann notes that institutions are still pouring capital into Bitcoin despite the "fragile" macroeconomic backdrop.
Bitcoin, on the other hand, saw significant institutional inflows from Grayscale Bitcoin Trust and Purpose Bitcoin ETF (Figure 4, red areas). The latter signaled a stronger demand for Bitcoin as an alternative risk-on investment.
According to the Glassnode executive, the institutional demand for BTC could signal the start of capital rotation into altcoins.
"We see the potential of a sizable crypto-wide move forthcoming since bullish sentiment spread to other assets in the space beyond Bitcoin."
Featured Image: Shutterstock/Tithi Luadthong/Natalia Siiatovskaia
Via this site.
Disclaimer: Although the material contained in this website was prepared based on information from public and private sources that EcomiCrush.com believes to be reliable, no representation, warranty or undertaking, stated or implied, is given as to the accuracy of the information contained herein, and EcomiCrush.com expressly disclaims any liability for the accuracy and completeness of the information contained in this website