The crypto market is predicted by some to keep dipping down. Which begs the question, is now the time to buy or get out while you can?
Buy The Dip?
The value of cryptocurrencies has plummeted spectacularly in recent months, and it seems the bottom is lower than anyone expected. An announcement by US-based crypto exchange Binance that it planned to buy rival exchange, FTX trading, has sent shockwaves through the investing world—with anxious investors pulling out their crypto funds. FTX is apparently suffering from a "significant liquidity crunch", and the deal is pending due diligence. If successful, it would represent the coming together of the two the largest crypto exchanges by volume.
Following the announcement, Bitcoin tumbled to a 52-week low of around $US 17,600 according to CoinDesk. While the largest cryptocurrency in terms of market value continues to fluctuate in the 24-hours since Binance's announcement, it is hovering around the $18,500 mark—its first time under $19,000 since September.
Bitcoin once traded for almost $69,000 per coin, but began its recent fall from grace back in May when it fell below the psychological floor of $US20,000 due to a broader crypto market crash. In one week alone in June Bitcoin dropped by 30%, and as of late October, was still trading at around the $US20,000 mark–until now.
Upon the Binance-FTX acquisition news, FTX's in-house coin FTT also plummeted–losing 85% of its value–while other popular cryptocurrencies Solana (SOL), Ethereum (ETH) and Polkadot (DOT) have all fallen around 12-15% in the last 24 hours alone.
When such large falls occur across the board for cryptocurrencies, many investors are left wondering whether it's time to take on the old investment adage and 'buy the dip'–as many hope these lows mark a temporary downturn rather than a long-term bear market.
If you're thinking now is the time to buy, here's a look at previous trends, some expert opinion and tips on buying if you're new to cryptocurrency.
With the value of cryptocurrencies plummeting spectacularly in recent months, from all-time highs to mind-boggling lows, many investors are wondering whether now is the time to buy the dip.
Bitcoin, which once traded for almost $US69,000 per coin, fell dramatically in May below the psychological floor of $US20,000 as part of a broader crypto market crash, which also saw the value of  Ethereum (ETH) and Cardano (ADA) tumble. In one week alone in June Bitcoin dropped by 30%, and as of mid July, was still trading at around the $US20,000 mark
But has crypto reached the bottom? Given the old investment adage 'buy the dip', investors may be hoping these lows mark a temporary downturn rather than a long-term bear market.
If you're thinking now is the time to buy, here's a look at previous trends, some expert opinion and tips on buying if you're new to cryptocurrency.
Significant Losses
There is little doubt that the crypto slide has been monumental. Since last November, the market capitalisation of all crypto assets has dropped from a combined $US3 trillion to around $US900 billion.
Some US crypto lenders, such as Celsius Network, Babel and Vauld, responded by freezing withdrawals; other exchanges, such as Coinbase, laid off staff.
Meanwhile, ETH saw similar losses to Bitcoin in recent months, down to around $US1100, while Cardano (ADA) suffered even worse, falling to $US0.46.
While this doesn't yet match the severity of the 2018 crash, in which Bitcoin lost 80% of its value, experts say things could still get worse for those left holding BTC—long regarded as the bellwether of crypto.
It's these kinds of losses that have prompted the Australian corporate regulator, the Australian Securities and Investments Commission (ASIC) as well as consumer advocacy group, CHOICE, to remind people of the highly volatile and risky nature of crypto.
As ASIC notes through its Moneysmart site: "When a cryptocurrency fails, investors will most likely lose all the money they put in. In most countries, cryptocurrencies are not recognised as legal tender. "
The site also warns against a high instance of crypto scams, while CHOICE is calling for greater consumer protections.
Inflation, Downturn and War
Co-founder of automated crypto trading platform Coinrule, Oleg Giberstein, thinks crypto is undergoing the same stresses as other parts of the economy, leading to the fall in prices.
He said: "It's not just crypto that's down, everything is down, and over the next six to 12 months the economic outlook is bad. Central Banks are between a rock and a hard place with regard to slow economic growth and high inflation. So, investors are escaping 'risk-on' assets like crypto and tech stocks."
As for whether this downturn marks the beginning of a long-term trend or a temporary blip, Giberstein believes the market could remain challenging for up to two years, but added things could worsen during that time.
Sam Kopelman of crypto exchange Luno agreed that Bitcoin and other coins' misfortunes weren't happening in isolation: "Investors dumped assets across the board (earlier this year) as global stocks suffered the worst day since June 2020. The market is battling the consequences of rapidly rising US interest rates, alongside military conflict in Europe."
Australian experts agree, with Chris Berg, co-director of RMIT's Blockchain Innovation Hub, claiming that inflation was behind the precipitous falls.
As central banks, including Australia's, hike rates to curb inflation, investors begin dumping volatile assets.
"Crypto is the ultimate risk asset, so it's the first to fall," Dr Berg told ABC.
Is 'Buy the Dip' a Good Strategy?
The principle of 'buy the dip' is based on an assumption price drops are temporary aberrations that correct themselves over time. Dip-buyers hope to exploit dips by buying at a relative discount and reaping the rewards when prices rise again.
Crypto markets are volatile, so buying cryptocurrencies at any price—let alone a dip that might become a long-term trend—is risky. While prices could return to previous levels, they could also fall even further, leaving your investment underwater.
If the past is prologue, then the current dip (or crash, depending on your perspective) could bounce back as it did last year, when prices fell to similar levels before returning to pre-dip levels and even peaking in the autumn. But of course, they might not.
Bitcoin prices in particular have shown a degree of seasonality to date, appearing to fall in value to lesser or greater extents in the autumn before bouncing back in early winter. However, as with every kind of investment, let alone the unpredictable world of cryptocurrencies, past performance is no guarantee of future results. At the time of writing, Bitcoin was hovering at $US18,500, after the news of the Binance take-over, but previously had been hovering around $US20,000 for months.
Co-Founder at Coinrule, Oleg Giberstein, said: "Many a novice investor has been burned trying to 'catch falling knives'".
He advises those committed to 'buying the dip' to decide on a set amount of money they're comfortable with using to buy BTC or ETH each month and not to worry too much about what happens to prices over the next two years.
Pavel Matveev of digital exchange Wirex advises buyers to hedge their bets. He said: "It's important to diversify your crypto portfolios with different altcoins to mitigate risks."
Crypto Meltdown Future Prediction
A crypto trader known for accurately predicting the previous market crash earlier this year thinks the current digital asset price downtick is "far from over."
The pseudonymous analyst known as Capo warns his 604,900 Twitter followers that the next leg down for crypto is "incoming."
Capo predicts that Bitcoin (BTC) could drop all the way to a local bottom of $14,000 before rebounding.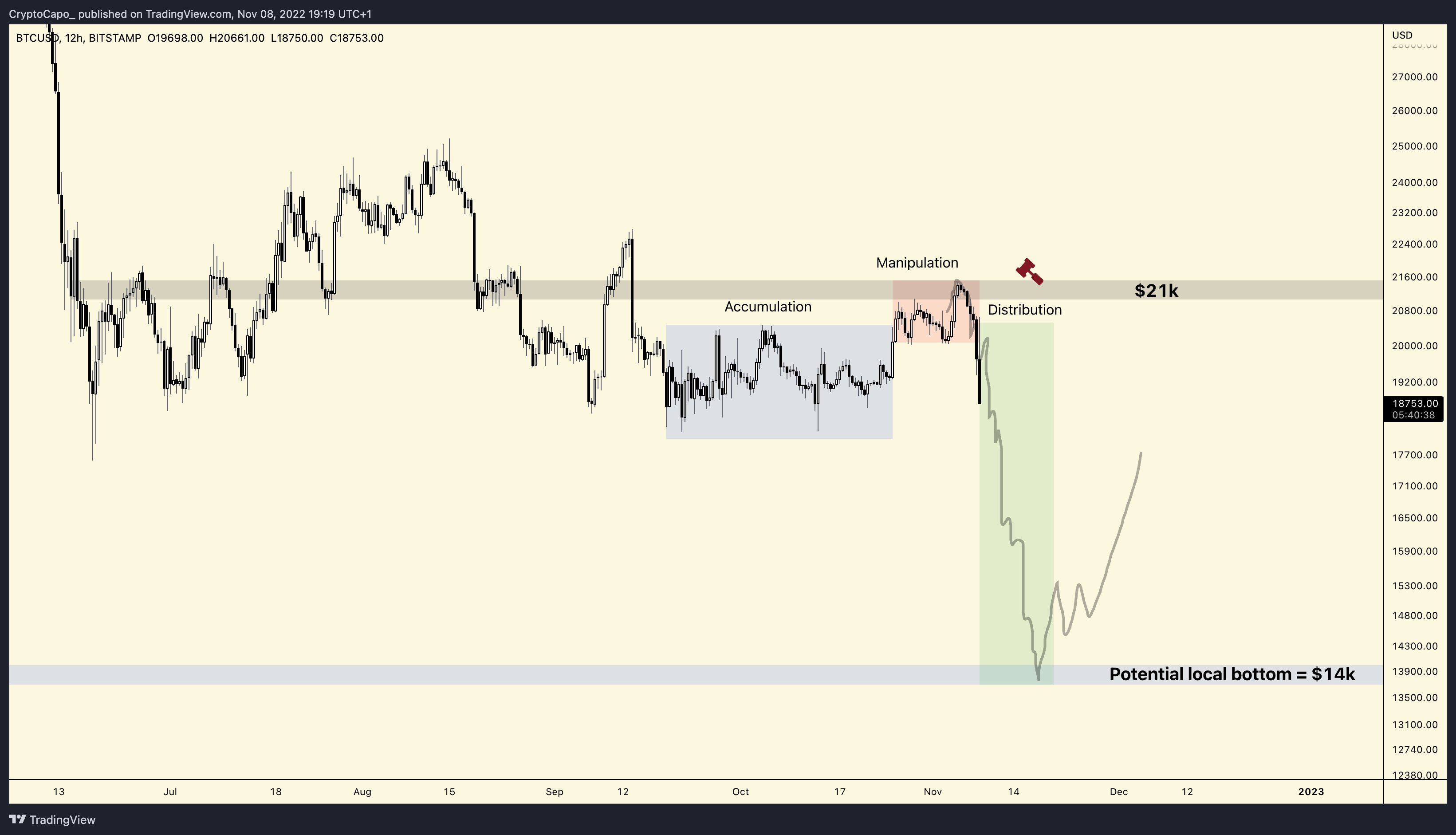 BTC is trading at $18,165 at time of writing. The top-ranked crypto asset by market cap is down nearly 12% in the past 24 hours.
Capo also predicts that altcoins will drop another 30-40%.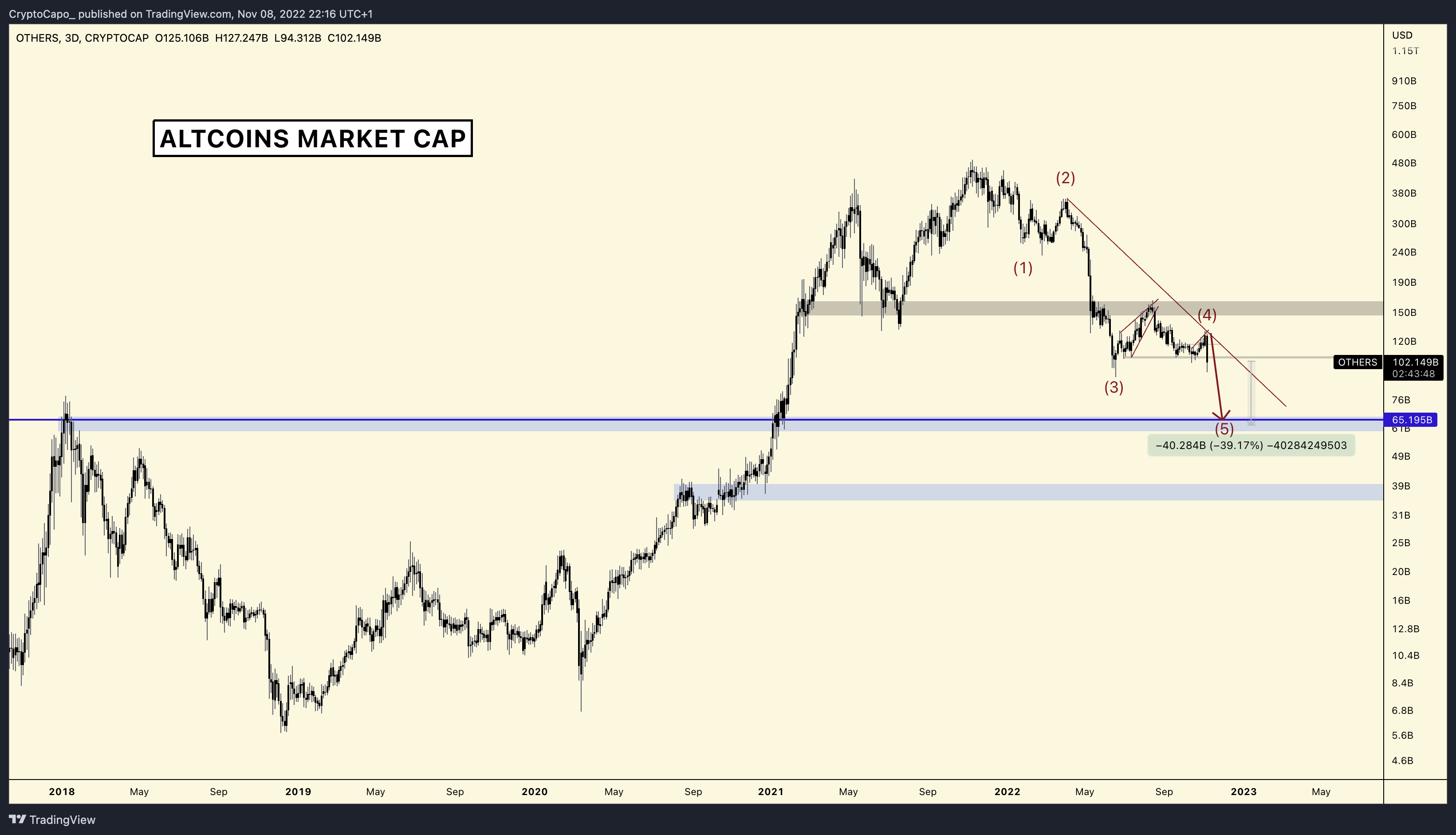 Ethereum (ETH) is trading at $1,298 at time of writing. The second-ranked crypto asset by market cap is down nearly 15% in the past 24 hours.
Digital assets dipped across the board after Tuesday's stunning collapse of embattled exchange FTX's native FTX Token (FTT), down nearly 75% in the past 24 hours.
Binance CEO Changpeng Zhao announced on Tuesday morning that his exchange intends to acquire FTX pending a full due diligence analysis of the business.
FTT's price crash happened after concerns surfaced that Alameda Research, FTX's trading arm, was too reliant on the token as collateral for loans.
The overall crypto market cap has dropped by 12.5% in the past 24 hours.
Generated Image: DALLE-2
Disclaimer: Although the material contained in this website was prepared based on information from public and private sources that EcomiCrush.com believes to be reliable, no representation, warranty or undertaking, stated or implied, is given as to the accuracy of the information contained herein, and EcomiCrush.com expressly disclaims any liability for the accuracy and completeness of the information contained in this website.